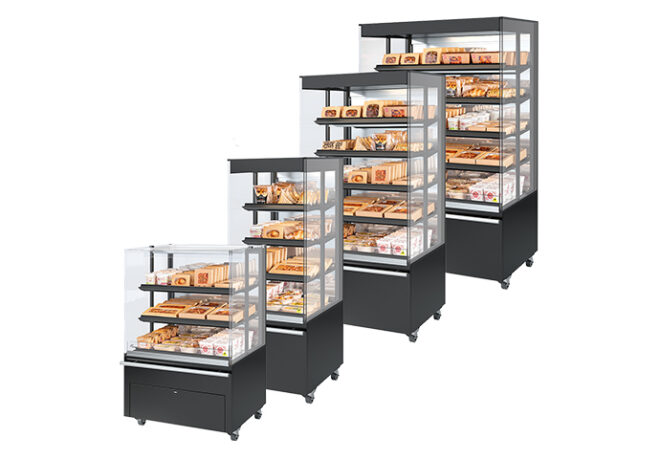 Available now!
New MDD Hot Merchandiser Range
For the presentation and hot holding of packaged Grab-and-Go food, Fri-Jado has developed a brand new range of heated merchandisers. The MDD Hot combines maximum transparency for the best view of your products with patented Hot Blanket technology. This technology offers premium holding conditions, while saving up to 50% on your energy bill*.  In summary, the MDD Range is optimized for a sales boosting presentation of packaged hot food, at low operating expenses.
* Compared to competitor equipment, more info on this page.
More flexibility in hot holding
Multi Temp Function
All MDD units are equipped with a Multi Temp function, allowing you to adapt the temperature per individual shelf to food from different food groups or to changing time-of-day offers. If not used, a shelf can also be turned off completely, to cut energy costs.
Premium holding conditions
Patented Hot Blanket Technology
Fri-Jado's Hot Blanket Technology keeps you food products safe, hot and delicious for up to 4 hours. Combined with soft shelf heating, hot air recirculation per shelf fully encloses your products, maintaining consistent food temperatures anywhere in the unit. An additional advantage of this technology is its energy efficiency. Hot Blanket Technology saves up to 50% on your energy bill while lowering your environmental impact.
The full range
Available MDD Hot Models
All MDD Hot merchandisers come standard with castors for easy moving. The following models are available:
With 3, 4 or 5 shelves
24, 36 or 48 inches wide
Solid back or pass-through (backloading model)
Discover all benefits or download specification sheets
Find Out More
Check out all benefits the new MDD Hot range has in store for you or go straight to the MDD product page in our online catalog, where you can download the specification sheets.