MDD - Multi Deck Display
Fri-Jado launches new self-serve hot food display cabinet
At the Host 2021 exhibition in Milan, Fri-Jado has launched a new self-serve heated merchandiser for packaged hot food-to-go. The MDD Hot unites maximum transparency for the best view of the product with patented Hot Blanket holding technology, and up to 50% less energy consumption than competitor equipment. This makes this food display cabinet optimized for a sales boosting presentation of high-quality grab-and-go food, at low operating expenses.
Full focus on the food
The MDD's transparent design and ultra-thin shelves with heat-resistant LED shelf lighting really put your food products in the spotlights. Meanwhile, Fri-Jado's Hot Blanket technology keeps them safe, hot and delicious for up to 4 hours. Combined with conduction heat, hot airflow recirculation per shelf maintains consistent food core temperatures anywhere in the unit. This technology also saves energy, reducing both your operating costs and environmental impact. The double pane glass sides of the MDD and improved insulation brings down energy consumption even further.
Safe, quick and easy use
With plenty of space between the shelves, it is safe and easy to grab food from this new hot display cabinet. Loading the MDD unit is easy too, especially with the pass-through model, enabling you to restock from the back. To operate the unit, you only need to switch it on at the top. Finally, preheating takes less than 30 minutes which is much quicker than comparable heated display cabinets on the market.
Adaptable to time-of-day offer
The MDD is also available in a Multi Temp version, allowing for individual shelf temperature settings. This way you can further finetune the temperature per shelf to different food groups and time-of day-offers. A shelf can also be turned off completely if not used, to save energy.
Available MDD Hot models
The MDD Hot self-serve display unit for packaged grab-and-go food comes standard with castors for easy moving (levelling legs are optional) and is available in the following versions:
4 levels or 5 levels
60, 90 or 120 cm wide
Solid back or pass-through (backloading model)
Single Temp or Multi Temp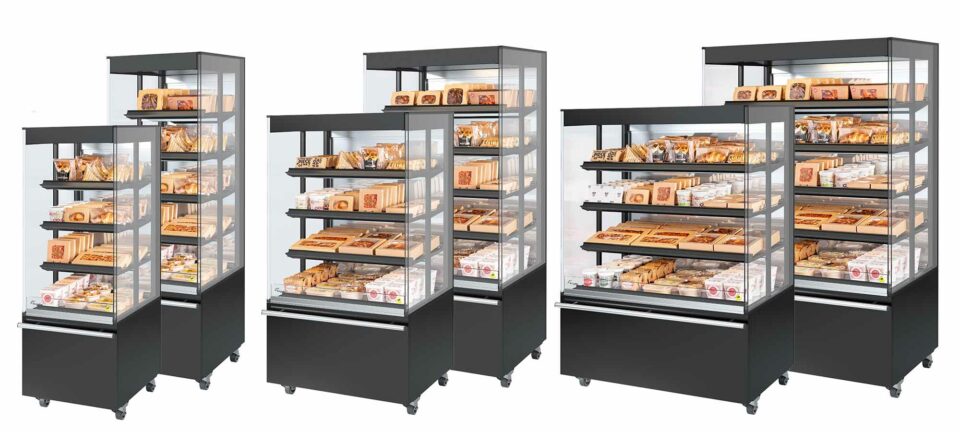 All about the food… and your wallet
With its transparent design making it all about the food, advanced Hot Blanket holding technology and an up to 50% lower energy consumption than comparable competitor units, the MDD Hot has been developed to increase your sales and lower your operating costs.
More information: